If you've recently launched your product on amazon and you are getting low or no sales there is a reason for it. In this short blog post I want to help you find this reason!
Image Quality
The first impression for the customer is the image, just think of yourself browsing amazon. What is the first image that grabs your attention? Don't forget Amazon's TOS regarding main images, it doesnt allow much leenway for creativity but there are always ways to improve your main image.
What you also need are professional made images, high quality at least 1500x1500 pixel.
If you don't have such a service in your area, I can recommend going to Fiverr.com, there are tons of professionals at affordable rates.
You want 7+ high quality pictures for your listing that are telling a story. Your product is a vehicle! We have our customers situation and his desired situation. Your product is the vehicle for him. For example: Our customer has a lot of belly fat, his desired situation is he wants to get rid of all of that. Our product is a Slimming belt and we want to show our product as the solution for his problem in our images!
If you can afford it, hire a professional model. This will make your images stand out of your competitors! This will not be cheap at least 500$+ but it will pay of huge.
Do not use unprofessional images from your supplier or even from alibaba! Trust me it is not worth it!
I really need to mention this here because there are so much crap products around. Cheaply fast made products that don't meet the requirements of the western world.
You want to use your product yourself, test it. Is it worth the money? Dont test it only once! Test it for a week or a month. Send some to your friends and family.
Listing
The same goes for your listing, you want to tell a story and want to have all of your keywords in your listing! Your images should fit perfect to your written listing. We recommend your main phrace match keywords in the beginning of your title with 200 characters. Use as much as you can!
Write out 5 bullet points of your product with 100 Characters each. One with a guarantee. This is a good example from one of our customer: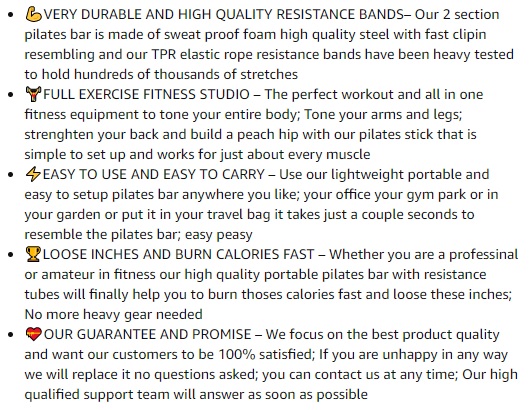 Then you want to write a good product description for your amazon listing. Talk about the benefits. Can you remember the vehicle? Talk about the benefits of your products and your customers will see it as their solution to their desired situation.
Make sure to keep it nice and clean. You can use a html editor for that as amazon only supports html for now. We recommend this free one here - https://html-online.com/editor/
For those that have already a active brand registered active make sure to use A+Contant!
Go to seller central - Advertising - A+Content Manager.
You will have a huge benefit and can use images and nice templates.
If you are not sure what to use and what works you can always go to your top5 competitors and looks what they have. Most of the time they have some good stuff there, but dont't be a copycat! Oh yeah almost forgot, add as well your product specifications in the description.
The Devil is in the details
It can be just one small thing that has this large effects, go to your sellercentral account.
Do you have enough stock?
Is your product in the correct browse node?
Keep updated and pay attention to small things that may seem inconsequential, small mistakes can cause tears in the seams which can make the whole operation fall apart.
Traffic
You can have the best images and listing of the world, but if there are no visitors/customers there can't be sales. Really simple!
Go to amazon.com and type in your keywords one by one and each time your count on which page your product is.
For example:
egg holder page6
egg storage page 3
egg container page 3
egg tray page 2
You want to check out where your product is located in the organic search results. You have now an idea where your customers have to search and if they are able to find your product. How many times have you bought a product on amazon from page 3-6 ? Well I personally never. Thats why we want to be in the first positions of your keyword.
But how do we get there? Simply with sales. We need to sell a specific amount of products in 7-8 days and amazon will list our product better. This is of course different for any keyword and you will need a small budget for this as you need advertising or a service for this.
I would recommend you reach out to me and we can go over this step by step with a FREE Strategy session!