You are selling a product on amazon and you have no idea if there are even people searching for it? You want to start selling a product on amazon, you should do your keyword research before you buy from your supplier!
In this blog post i will show you the professinal way of doing your research.
The Problem With 3rd Party Tools
We all know them and we all love them because they are easy to use an with a few clicks we get numbers. But the problem with these tools is that some are not having accurate numbers. I'm not gonna drop names here but i think you know some of them or even have gone through a training with them. I had clients that completely trusted these 3rd party tools tools an ended up having 1000+ products in stock, not sellable on amazon because there is no or less traffic for it!
Today I'm gonna show you the way how professionals are doing their research and how you should always doublecheck, do not rely only on your 3rd party tool!
Amazon Brand Analytics
Yes it can be that simple! Just use amazon but that would need a registered Amazon brand! If you haven't registered already one i would recommend you get this done asap. It will cost you around 500$ but you will have so much benefits. If you want long term success this is your next must do step!
Ok lets check a keywords: Go to your sellercentral account - brands - brand analytics and type in your keywords, it will look like this:

Make sure to use the correct market, for us amazon.com, change out the reporting range if you want to. We look at the data from last week, month and last quarter to get accurate numbers. Becareful with seasonal products, if you are starting out i would stay away from them.
On the left side you can see your keyword and related keywords with the phrace in it, the search frequency rank and on the right side your top 3 competitors, you can see even the click share and conversion share stats!
What we want to get an accurate traffic number for our keywords is the Search Frequency Rank. Amazon does not give us traffic numbers they created their own SFR system. The better the rank the higher the keywords search. Yes of course we will give you numbers. These numbers are from an insider and are very accurate!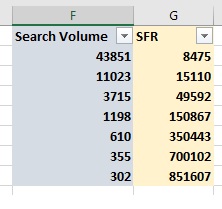 On the left side you can see the search volume per month and on the right side the Search Frequency Rank. Lets say your keywords shows in amazon brand analytics a SFR of 57075 our example from above the pilates bar, you are sitting on a keywords with around 4000 searches per month. Got it? For your main keyword we recommend at least a SFR of 50.000! So that is a close one, we would have to check out our competition and make a decession then if we would jump into this market.
Use Google Keyword Planner
To double check this number we use google keyword planner. Google is the worlds number one when it comes to traffic. We can use their huge database to see traffic for keywords and also trends. Yes Amazon is a different search engine but you can asume that the volume will be relatively the same and it will help you to get the birds view.
First we are going to dive into the keyword and traffic stuff, later I'm going to show you the trend stuff and yeah this is sick guys! If you have't registered a google adwords account its really simple, go to https://ads.google.com and register your free account.
Once you are registered login and click on tools&settings - keywords planner - discover new keywords and type in your main keyword. We are going to start a search like this: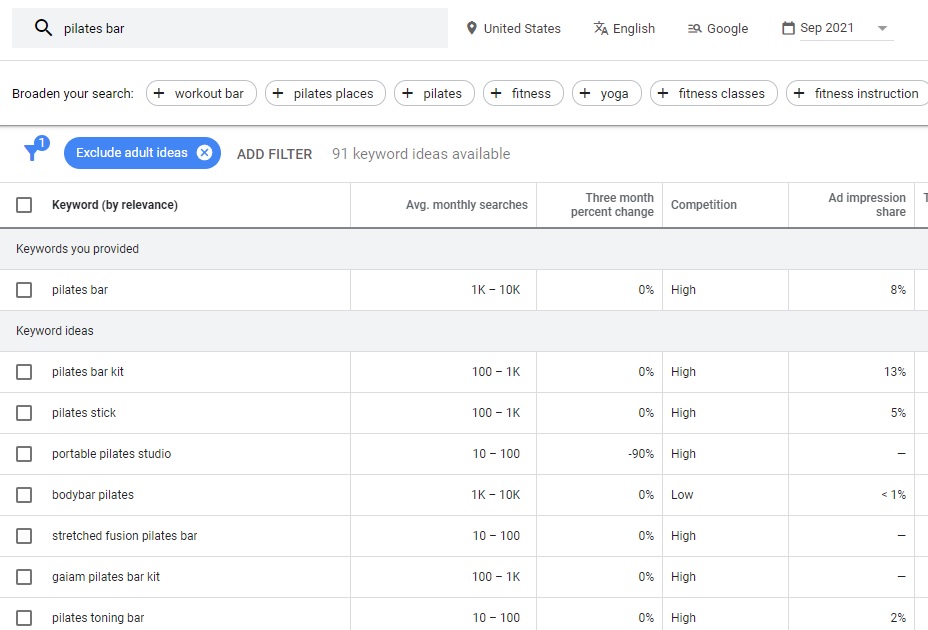 On the top you see your keyword, make sure you have the correct target market. For me the USA and english. The reason why we are using "discover new keywords" is because you can get good ideas here on what are people also searching on google and can check this in amazons brand analytics, bodybar pilates looks interesting here ;). The average monthly traffic volume is here as well listed. Also dont forget to check for weekly, monthly and quaterly traffic numbers if you are selling a season based product.
For the pilates bar we have here 1K -10K, is a average monthly search volume of 5500.
On Amazon we had 4000 so we can see this number is accurate and we know now the traffic volume for this keyword. You want to repeat now this proccess for all of your main keywords. You might be surprised on the traffic of some or you will find some new and hot keywords not a lot are using!
Google Trends
As a bonus i want to show you our secret weapon, google trends. If you are a marketer and are not using this free tool you are missing out on a lot. Trust me!
Just go to https://trends.google.com and type in your keyword, you will be surprised on how some of them perform over time.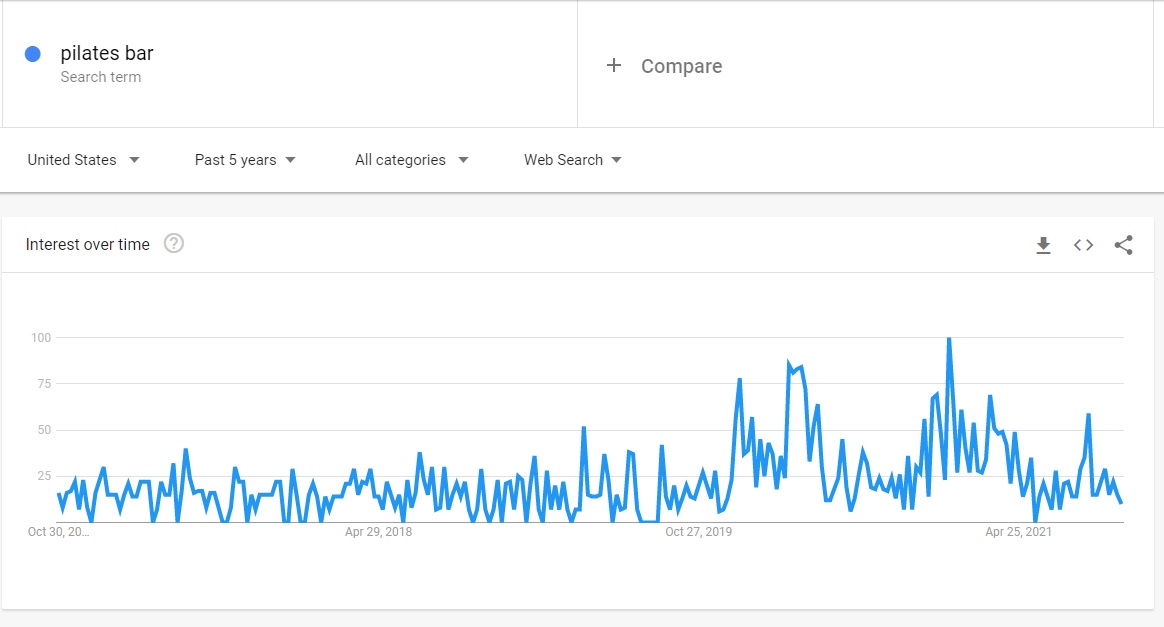 The interest over time for the past 5 years looks good, there are just normal ups and downs. Bit increase during covid but nothing to worry about. We would be good to go definitely.
And now type in Pickleball and you will see what I call a perfect market now ;)
If you are not sure if your product is good enough or if you have questions, feel free to reach out and jump on a strategy call with me, I'm sure i can help!